In 2022 I performed strategic research on Sustainability in asset-intense industry operations and solution strategies for operational sustainability.
Enterprise Importance of Sustainability
Companies
Globally, major corporations to small companies are looking to become more sustainable, to reduce their environmental impact while remaining competitive. Companies are being held responsible for all Environmental, Social, and Governance (ESG) aspects of their supply chains and operations.
Investors
Sustainability and ESG have also become topics in the trend toward responsible investing. Investors are increasingly using sustainability scores and ESG metrics to evaluate potential investments given the promise of higher returns. This has pressured companies to be responsible with their resource allocation, strategic in their decisions, and transparently report their sustainability disclosures.
Se IBM ESG reporting on www.ibm.com/impact.
Policy and Regulation
Global policies and regulations have increasingly aligned with international commitments toward ESG. The UK has established an environmental and sustainability policy that allocates resources and staff toward implementing established measures for ESG practices. The European Union (EU) has been a global leader in enacting ESG regulations, making clear that sustainable development will be an utmost priority in its decisions. It presents a holistic approach to the United Nations' (UN's) 2030 Agenda for Sustainable Development across member states, with clear measures coming from the European Council and European Parliament and budget allocations toward these goals.
Customers
As companies are becoming increasingly customer-centric as part of their competitive strategy, customers are increasingly demanding sustainable products and services. This strengthens the brand and reputation of companies with transparent supply chains that can guarantee fair labor practices and environmentally friendly operations. In an unprecedented way, customers now have a voice that can influence management decisions through their buying power.
International Community
With the global consensus brought about by the UN SDGs and the initiatives they have prompted, the international community has become a powerful force to mobilize funds and enhances cross-sector agreements for the implementation of cross-cutting ESG initiatives.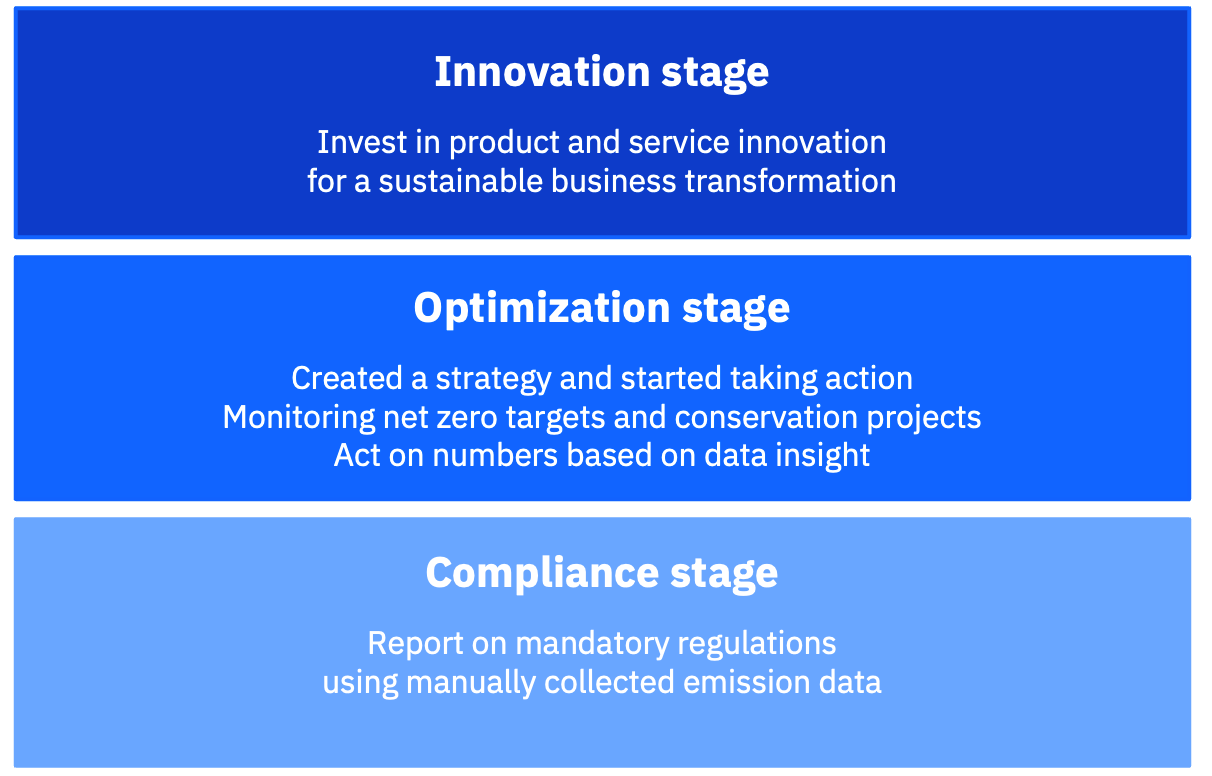 Organizations are initially in a Compliance stage, reporting on mandatory regulations using manually collected data, often challenged by data at scale and low quality. Actions are taken to start collecting environmental impact operational data from existing environmental critical assets and operational workflows.
Most organizations move to an Optimization stage, with a defined sustainability strategy, and started taking optimizing actions by defining goals, monitoring targets, running conservation projects, and acting on KPIs based on data analytic insights. Actions are taken to identify and act on bad environmental actors and start operational change programs to improve carbon footprint through emissions, consumption, sourcing, and waste in operations by environmentally impactful assets and workflows.
Some organizations transition into an Innovation stage, with investments in product and service innovation or a sustainable business transformation. New products are created through a holistic sustainability viewpoint across supply, operations, and product delivery.
Sustainability, Environmental and Operational Processes
Sustainability, Environmental and Operational processes are often to be organized into separate process areas and process owners.
Sustainable enterprise processes, owned by the corporate sustainability function, including definition and management of sustainability goals, metrics, and reporting. Strategies are defined at the corporate level and reported using sustainability disclosures and standards. The granularity of goals and metrics is by year, using a base year, target year, and trends per year. Metrics are decomposed and reported by the significant regions or lines of business. ESG metrics are given in absolute and relative terms often using a coarse-grain classification of emission sources and types significant to the industry.
Environmental processes are owned by Safety and Environmental corporate functions and the Operations business units. In the Safety and Environmental corporate functions, we find process owners as the environmental manager managing environmental policies, goals, impact, permits, consents, and compliance. The environmental manager also manages incident investigations and resulting changes to operational and environmental processes. The focus is set on optimizing the performance of environmentally critical assets and identifying outliers across instances and operational types of locations and assets.
Operations teams are responsible for implementing and complying with environmental policies on incidents with environmental impact, taking corrective actions, and reporting on environmentally impactful operational activities. Such activities may be the consumption of energy and material, emissions through combustion and incidents, and waste generated from maintenance. Asset lifecycle presses involve purchasing, supply, transport, storage, usage, and waste management.
Operational sustainability data is recorded and managed at a fine-grained resolution through the operational workflows. The tracking of ESG metrics enables environmental performance analytics and resulting corrective actions to be taken by the operational team at the scale of asset instances and asset classes.
The fine-grained data managed in operations are synchronized with synchronized management systems and reported through sustainable enterprise processes.
Design Considerations
"Provide a platform for organizations on a sustainability journey to report on environmental impact and manage improvements using their existing asset infrastructure and operational asset management workflows."
Organizations seek to
Establish a corporate sustainability baseline.
Execute a corporate sustainability strategy and meet targets.
Maximize asset service life and reduce environmental impact.
Sustainability, Environmental and Operational processes have specific objectives. The outcomes of these processes are coupled. Workflows are connected, and workflow data is shared.
Operational data at the asset level is required for operational sustainability workflows to be actionable.
Operational processes generate rich, diverse, high-speed, and high-resolution data.
Only environmentally significant operational data needs to be selected for sustainability analytics and reporting workflows.
Granularity of operational data can, should, and will be lost as data is aggregated and synthesized moving into sustainability workflows.