Introduction
Sustainability and environmental impact is becoming a driver for all corporations, as a financial risk and as a market opportunity. Sustainability organizations are challenged by the disruptive introduction of new operational infrastructure, manual collection of environmental data, and environmental data quality. Operations in industry sectors are expected to contribute by sustainability data for environmental critical assets and processed and track carbon footprint across an asset lifecycle.
Customers across industries can adopt regulatory carbon accounting by using the HSE add-on in Maximo Application Suite to manage and report on environmental impact from their asset infrastructure and operational Enterprise Asset Management workflows.
This article outlines the concept designs to deliver incremental environmental capabilities in IBM Maximo Application Suite.
Sustainability defined
Global policies and regulations have increasingly aligned with international commitments toward Environmental, Social, and Governance (ESG) goals. Major enterprise corporations, and mid to small companies alike, are looking to become more sustainable. Not only to reduce the risks of major scandals but also to remain competitive. Companies are being held responsible for all aspects of sustainability from their supply chain, through operations to product delivery.
Enterprise organizations move up a three stages sustainability maturity curve.
Organizations are initially in a Compliance stage, reporting on mandatory regulations using manually collected data, often challenged by data at scale and low quality. Actions are taken to start collecting environmental impact data from existing environmental critical assets and operational workflows.
Most organizations move to an Optimization stage, with a defined sustainability strategy and started taking optimizing actions by defining goals, monitoring targets, running conservation projects, and acting on KPIs based on data analytic insights. Actions are taken to identify and act on bad environmental actors and start operational change programs to improve carbon footprint through emissions, consumption, sourcing and waste.
Some organizations transition into an Innovation stage, with investments in product and service innovation or a sustainable business transformation.
Organizations depends on safe, reliable and sustainable operations. Integrated processes across operations, maintenance and Health, Safety and Environment (HSE) have been proven to bridge organizational silos to improve operational performance. These processes utilize common asset structures and integrated safety processes. Extending HSE for sustainability is a logical extension of these capabilities.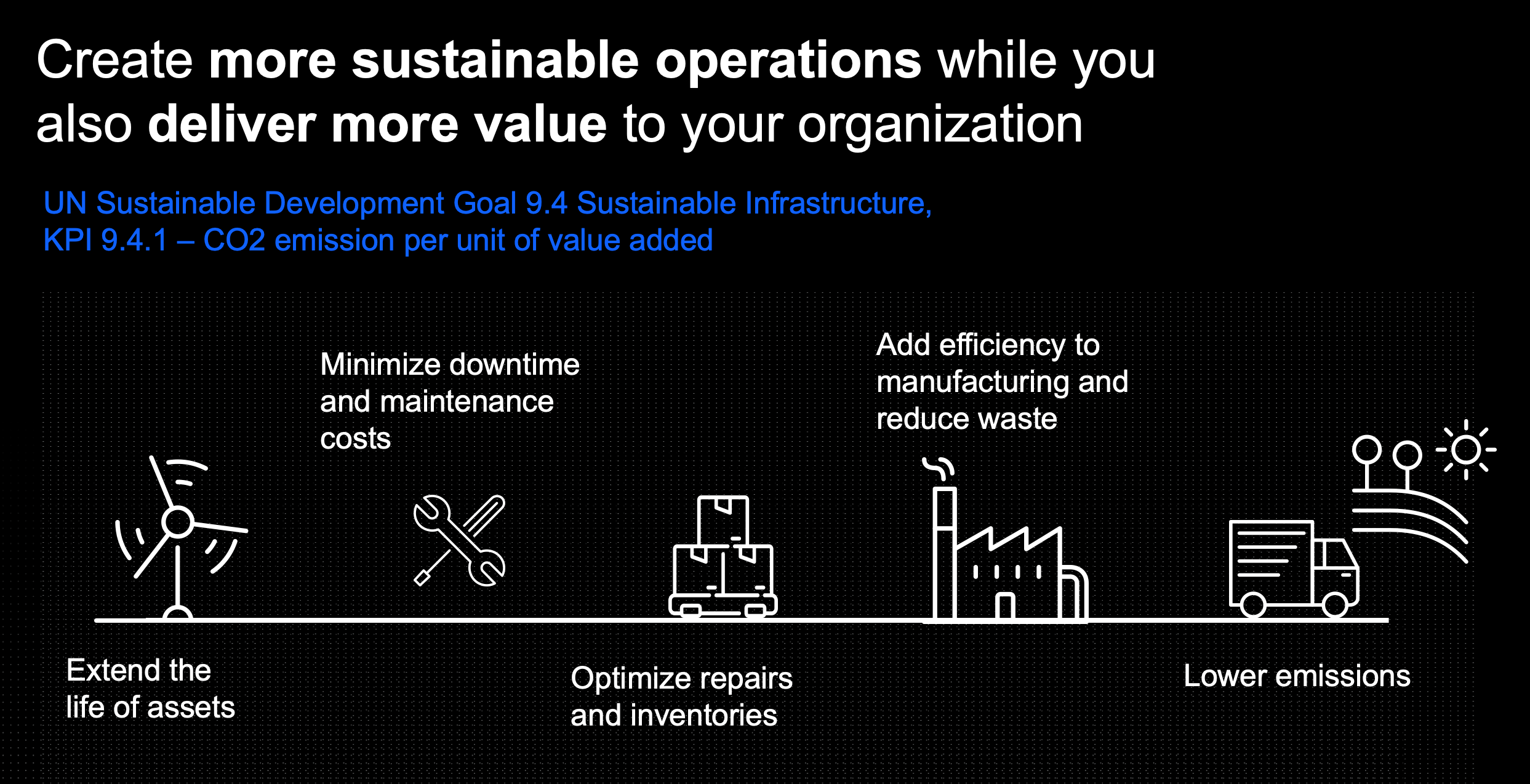 Sustainability and Environmental operational processes
Sustainability and Environmental operational processes may be organized into two process areas. Sustainable enterprise processes, owned by the corporate sustainability function, including definition and management of sustainability goals, metrics, and reporting, Sustainable operations processes owned by Safety and Environmental corporate functions and the operations business units. In the Safety and Environmental corporate functions, we find process owners as the environmental manager managing environmental policies, goals, impact, permits, consents, and compliance. The environmental manager also manages incident investigations and resulting changes to operational and environmental processes. The focus is set on optimizing the performance of environmental critical assets and identifying outliers across these assets.
Operations teams are responsible for implementing environmental policies, reporting on incidents with environmental impact, taking corrective actions, and reporting on emissions from operational activities. Such activities may be the consumption of energy and material, emissions through incidents, and waste from maintenance. Asset lifecycle presses involve purchasing, supply, transport, storage, usage, and waste management, tracked for the carbon footprint of an asset.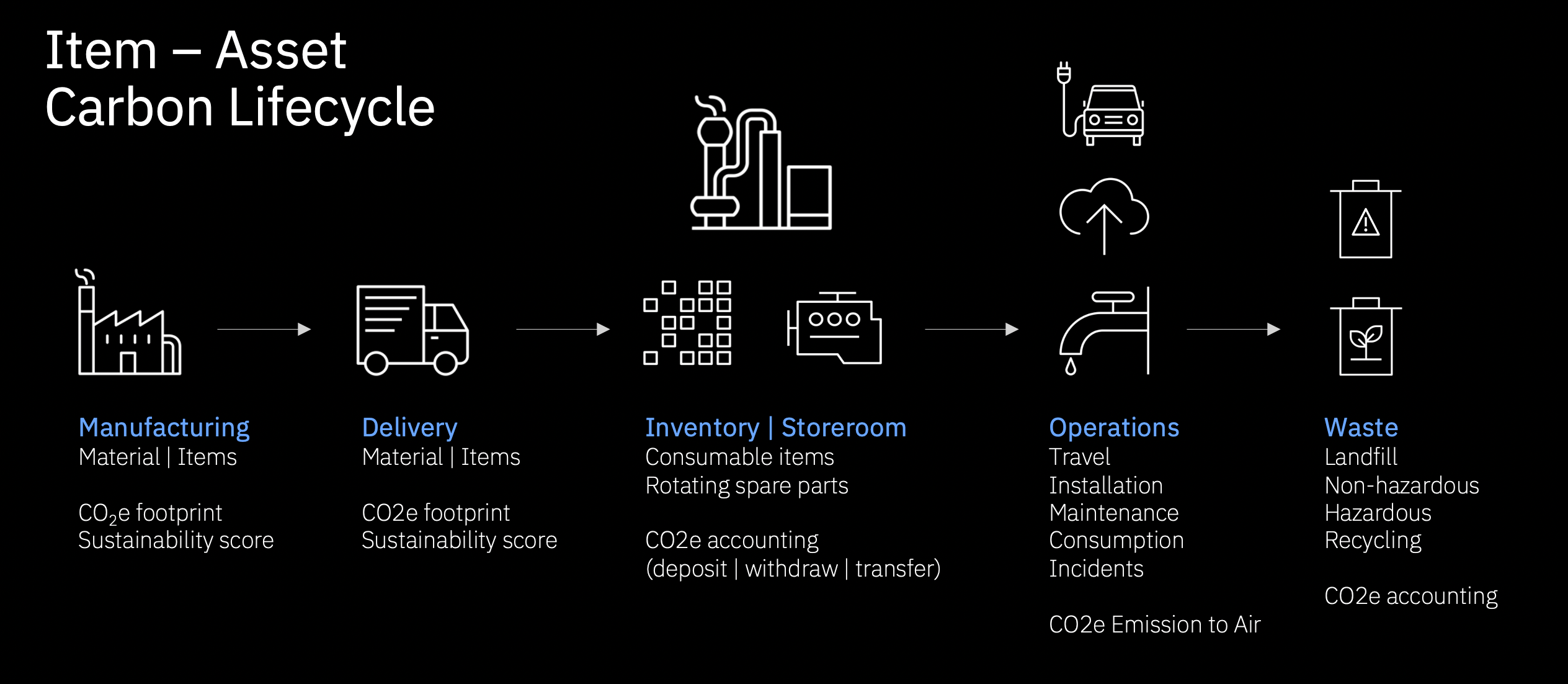 A more sustainable organization starts with your assets
Managing environmentally critical assets
Managing environmentally related incidents and corrective actions
Reporting and managing compliance
Identifying emission sources and capturing emissions
Improve ESG visibility in the Maintenance repair and Operations supply chain
In many organizations, IBM Maximo Application Suite is the system of record for operational assets and Enterprise Asset Management data and workflows, such as Assets, Work Orders, Inspections, Incidents, and Supply. Most of these business objects and processes have environmental
The IBM Envizi Sustainability Performance Management platform automates the collection and consolidation of sustainability data and becomes the system of record for sustainability goals, and metrics with analytics and reporting.
Environmental Extensions
The challenge
A challenge for operations team is introduction of disruptive introduction of new applications and processes. Changes require new system implementations and education on impacted operational roles. A requirement on extended environmental capabilities is the adaptability to currently configured workflows and data used by any organization.
The concept design addresses this challenge by extending the core Enterprise Asset Management (EAM) and Health, Safety and Environment (HSE) objects with new environmental objects that unified the heterogeneous asset information with a unified environmental model. The core EAM and HSE objects and their seamlessly injected environmental objects are discussed below.
Environmental profile and Emission sources
The Environmental Profile is a new object added to MAS Manage to uniformly manage operational environmental data in the context of a related Location or an Asset.
The Environmental Profile object links the environmental impact data related to events of the asset, such as consumption of fuel or power, emissions from leaks or spills, use of spare parts, and waste. The carbon footprint of each event, or Emission Source, is tracked in operational units and converted to a CO2 equivalent value. Operational data from events are automatically connected by meters, or manually entered through inspections.
By optionally configuring an asset Environmental Profile with meters in the assets parts hierarchy, the Environmental Profile object may trace to all environmental data in the context of a asset composition.
By filtering Emission Sources of an asset by type analytics can be performed to discover bad actors on emissions and improvements in asset reliability.
By designing a unified the Environmental Profile object, the integration with Enterprise Sustainability processes is greatly simplified. The Environmental Profiles provides traceability to all instances of environmental impact in the related context of an asset or location.
Information model
The Enterprise Asset Management (EAM) information model defines the key business objects that hold attribute data and interact in the workflows. The core EAM object and their significance to sustainability are described below.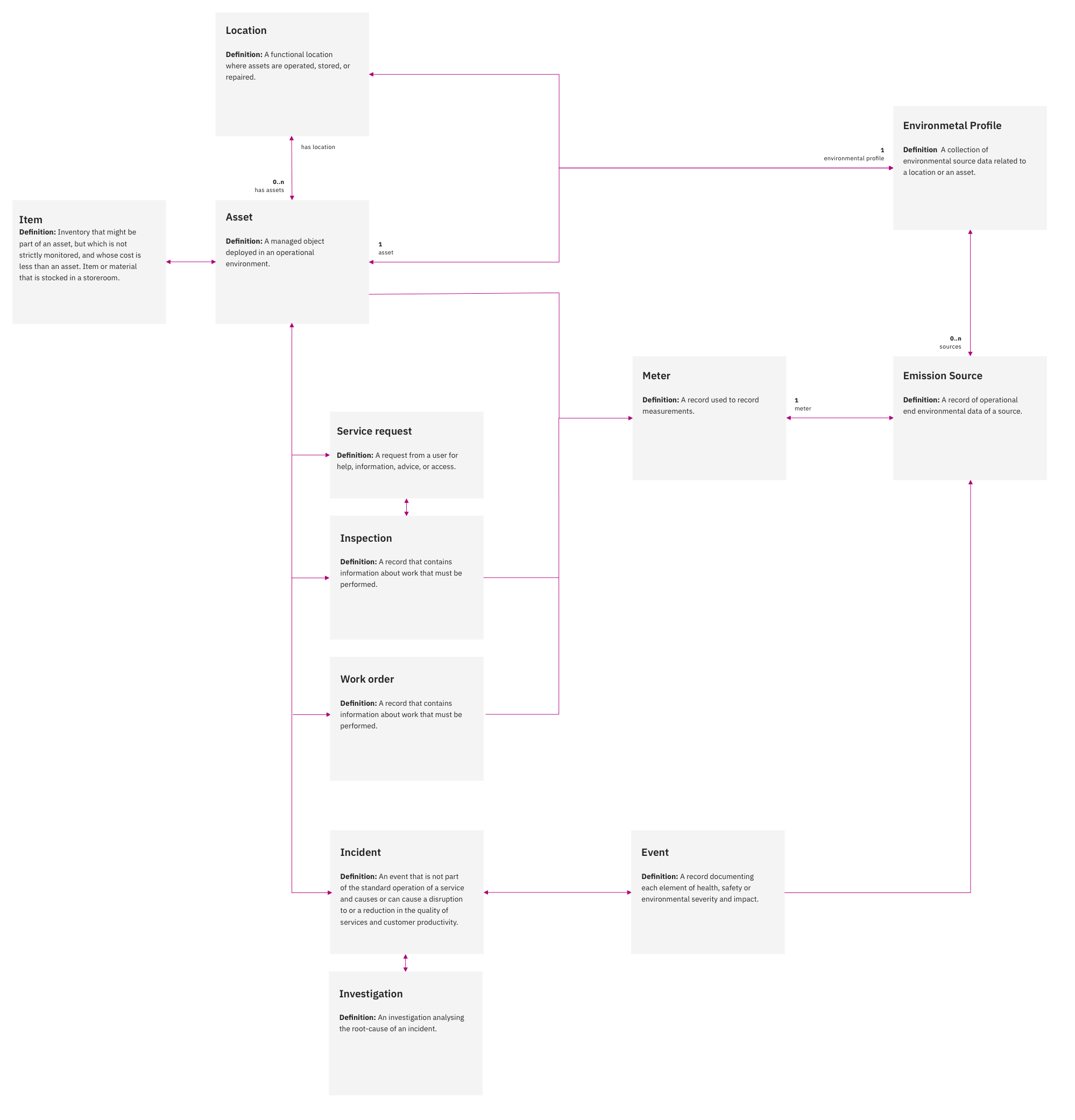 Assets and Locations
Assets and Functional Locations have an environmental footprint by general operations though continuous consumption of resources like energy, fuel, and water. The level of consumption may vary over time-based on operational production factors. The consumption is measured by the asset meters or location meters in operation consumption units. The type of consumed resources may change over time. For example, the type of refrigerant may be changed.
Figure below shows the environmental impact from an HVAC system asset with a list of emission sources from monthly maintenance and a recent refrigerant leak. The list is filtered to only show consumption of refrigeration material, demoting any emissions from Power consumption or other emissions sources.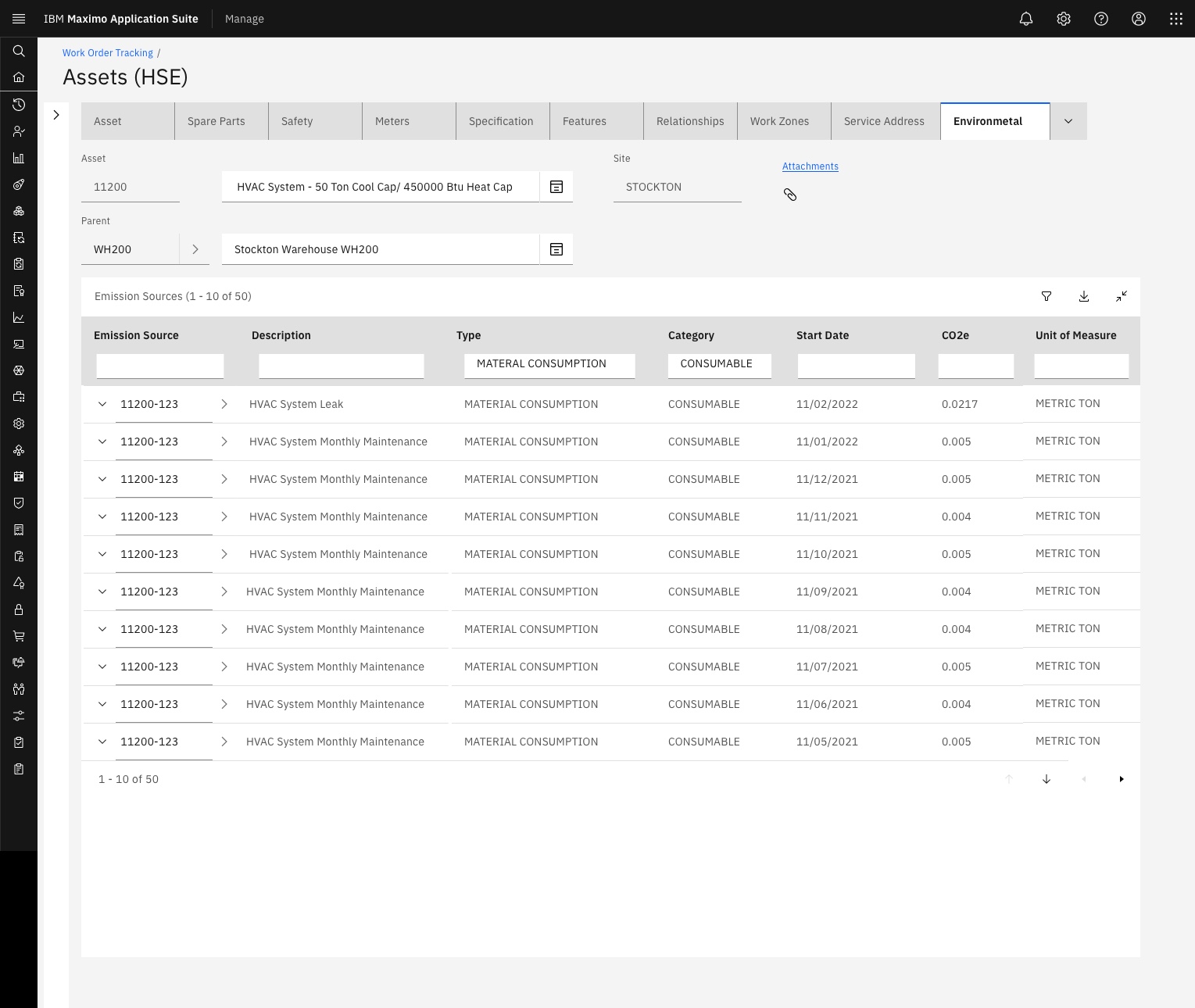 Meters
Assets and Functional Locations have Meters that track the consumption data of the related entity. Data may be automatically provided by connected IoT sensors. Meter data may also be manually entered by a technician performing an Inspection.
Incidents
Incidents are unintended operational accidents that result in a release of material to the ground, water, and/or air. The type of material and amount are assessed or measured by the incident reporter. Following investigations may correct the environmental data reported by adjusting the amount and including any additionally identified releases related to a chain of events.
Figure below shows the emission source details of a HVAC system refrigerant leak. The refrigerant HFV-143a is used for the system and the CO2 equivalent of the refrigerant is computed.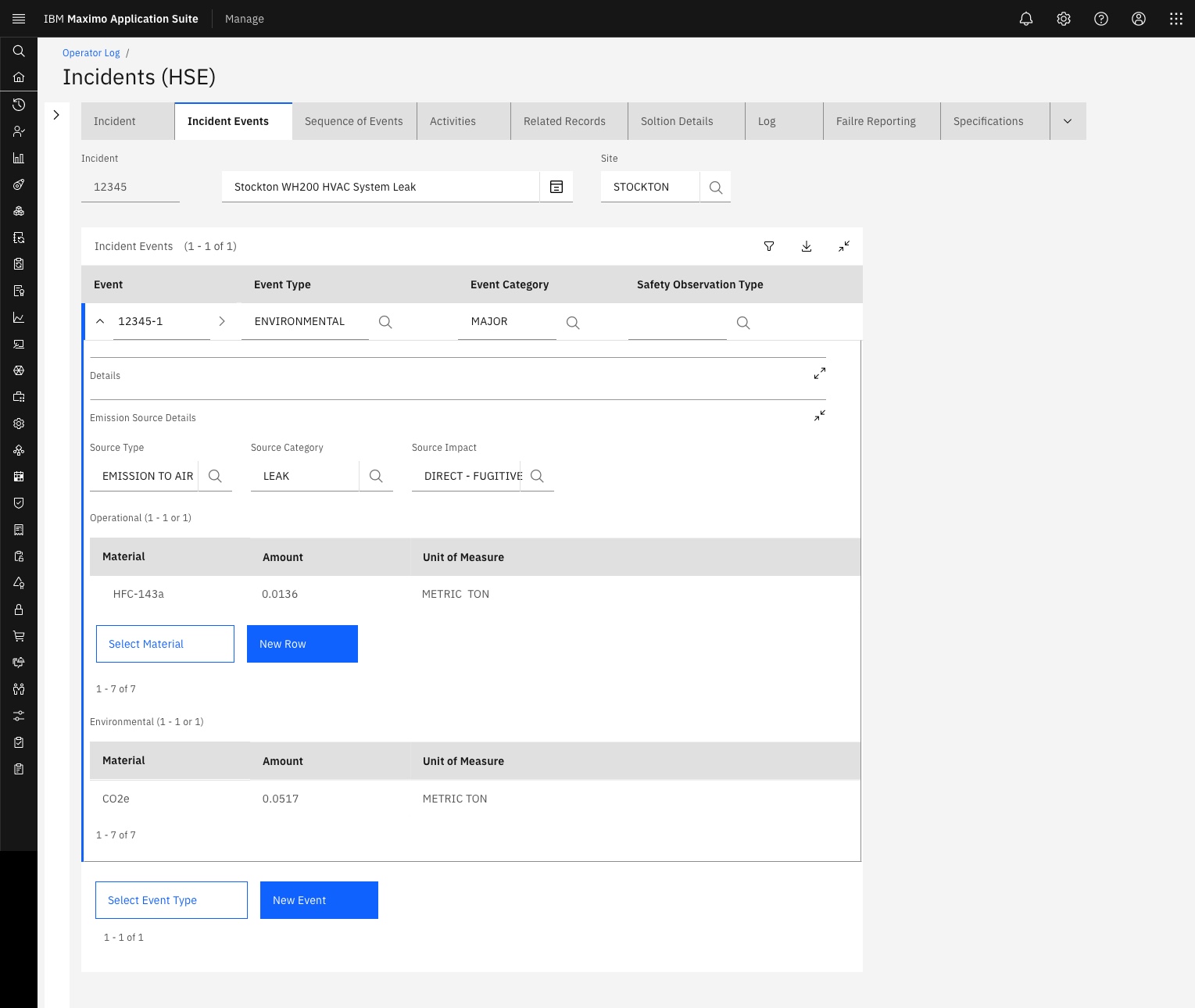 Items
Items are spare rotating assets, parts, or consumables used for asset maintenance.
Item Masters is a specification of Items of a common type. Items have an associated environmental footprint over their end-to-end lifecycle, including manufacturing, transport, inventory, relocations, installation, maintenance, repairs, consumption, waste, and recycling.
Figure below shows the specification of a HFC-143a Triflouroetan refrigeration gas bottle. Such an Item Master is referenced by a Job Plan that defines the maintenance of the HVAC system. The specification of the item material and its environmental impact automates the emission calculation of the actual material used and waste produced by a maintenance work order.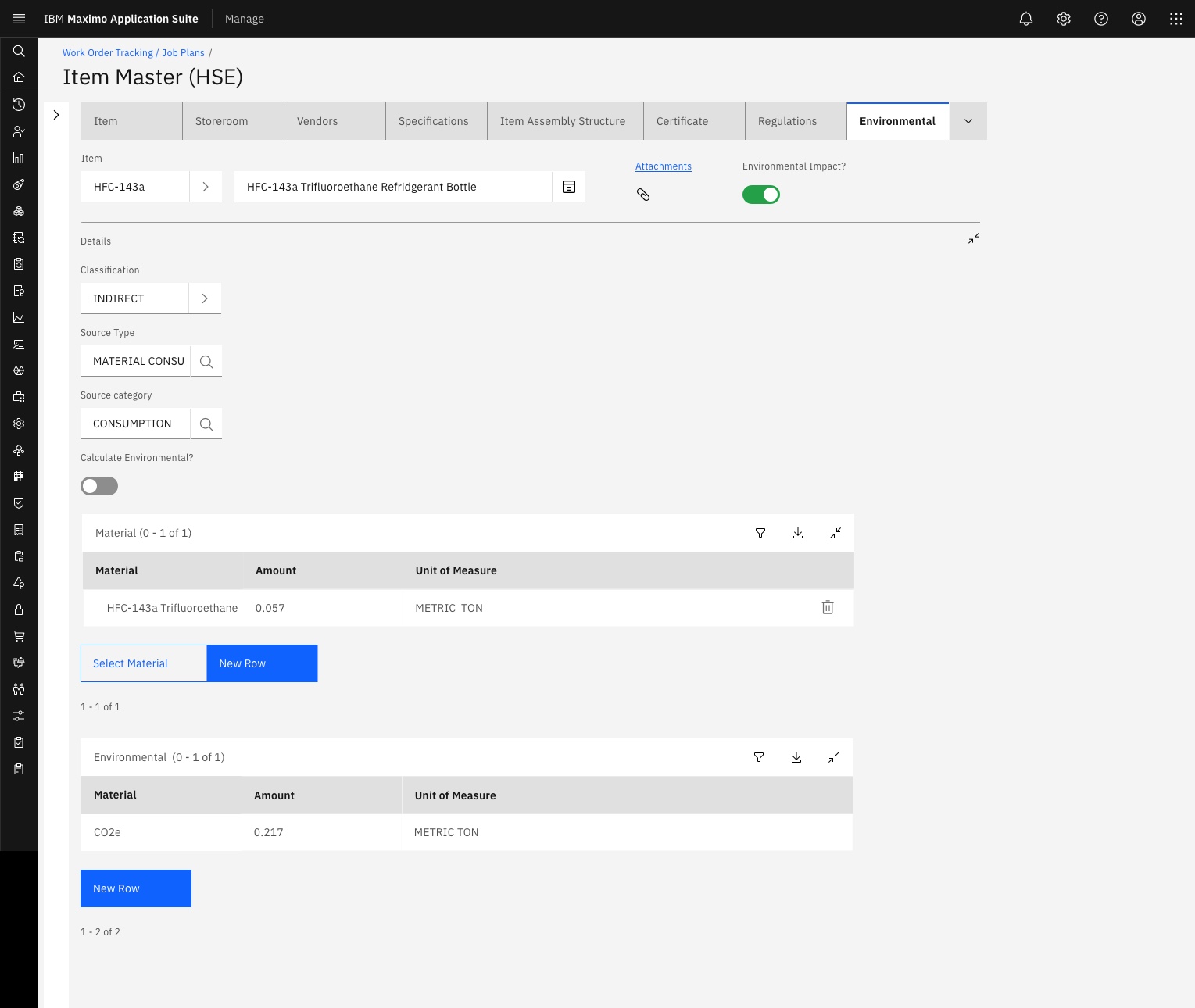 Inventory
Inventories are managing the stock of items used in asset maintenance. The inventory hence realizes the environmental accounting for the items supply chain. New stock of items will deposit environmental footprint INTO the inventory. Relocated, used or wasted items will withdraw environmental footprint FROM the inventory. The environmental footprint of each item, or selected types, is tracked. Any item environmental impact caused after the items has been withdrawn from the inventory is a process related to work orders or incidents.
Material
Material is the chemicals, ingredients, and products provided by a supply chain and used by operations.
Material is best defined in the context of items of operations by their type and chemical ingredients. Each item, or each content of an item, may have a CO2 equivalent contributing to its carbon footprint. Material is managed in a common service library.
Conclusions
Summary
Sustainability and environmental impact is becoming a driver for all corporations. The operational team will benefit from incrementally adopting environmental capabilities in Maximo Application Suite with the Manage application, acting as a system of record for customers with operational Enterprise Asset Management (EAM) workflows and data and supporting a sustainable operations transformation.
IBM Maximo Application Suite provides intelligent asset management, monitoring, predictive maintenance, and reliability in a single platform. It's a single, integrated cloud-based platform that uses AI, IoT, and analytics to optimize performance, extend asset lifecycles and reduce operational downtime and costs. The HSE add-in for IBM Maximo Application Suite is providing a ready-to-deploy solution for managing operational environmental data and workflows. Integrations with IBM Envizi provide data connections to report on sustainability metrics.
Learn more about IBM Maximo Application Suite at https://www.ibm.com/products/maximo.
Learn more about IBM Envizi Sustainability Performance Management at https://www.ibm.com/products/envizi.
About the author
Mats Göthe is a Design Strategist and STSM in the IBM AI Application unit. Mats joined IBM Rational 25 years ago and have held various leadership positions in design, product management, development, sales, and services. Mats have a Ph.D. in physics and is based in Sweden.
Strategic Research on Sustainability

Learn about the enterprise importance and maturity in sustainability.
Operational Sustainability Scenarios

Learn about the Operational Sustainability design scenarios and sustainability best practices using Maximo Manage application and Health Safety and Environmental capabilities.
Sustainability personas

Learn about the Sustainability personas
Environmental Profiles and Emission Sources

Learn about the design concepts on environmental profiles and emission sources.