Exploring Big Ideas
We generated Big Ideas in three areas
Travel
Process
Communities
This emerged to a design around the big idea of a tourist arriving in Stockholm.
A chatbot for tourists in Stockholm that helps with finding and sharing information
Growing a personal network by meeting new people
A structured network to connect people
Stakeholder Maps
We generated a Stakeholder Map from this Big Idea.
Tourists – Arriving in Stockholm city as first-time visitors with an interest in experiencing the best activities and Swedish culture.
Locals – Loves meeting new people and showing them around the city. Want to learn and improve their language skills.
Officials – Want invest and be efficient to provide the best information and experience for visitors
Guides and Agents – Travel agents and street artists that want to know where crowds are
Businesses and Developers – Build client solutions and businesses¨¨
Empathy Maps
We generated an empathy map for Texas, the tourist. The An Empathy map structures what Texas 'Say', 'Feels', 'Thinks' and 'Does'.
Empathy Map for Texas, the Tourist
Texas, the tourist, THINKS he needs to get to a hotel and connect to wifi, so he can get information on what to do this evening. He is quite a good tango dancer and wants to see suggestions based on this interest.
But as the moment he FEELS lost, lonely, hungry, stressed. But also energized to learn more about Stockholm.
He SAYS – "Where are the locals?" and asks "Can you show me…?" and "How do I get to…?".
He has been walking for hours and finally gets to his hotel. He spends hours on Google trying to find information.

Empathy Map for Lisa the Local
We generated an empathy map for Lisa the local. We found that…
Lisa thinks that she has so much to show. She is willing to set a day aside for such activities. She thinks that she may get tips like 10 SEK for every tourist that she is helping out. But she is a bit nervous and wonders how to call for help in case of dangerous situations.
She feels she might be lacking sufficient language skills. She might be annoyed by tourists are not behaving.
She tries to connect with some tourists to join her for a football match or dinner at a new restaurant she just heard about.
She works as a shop assistant and puts her name upon a contact list at work.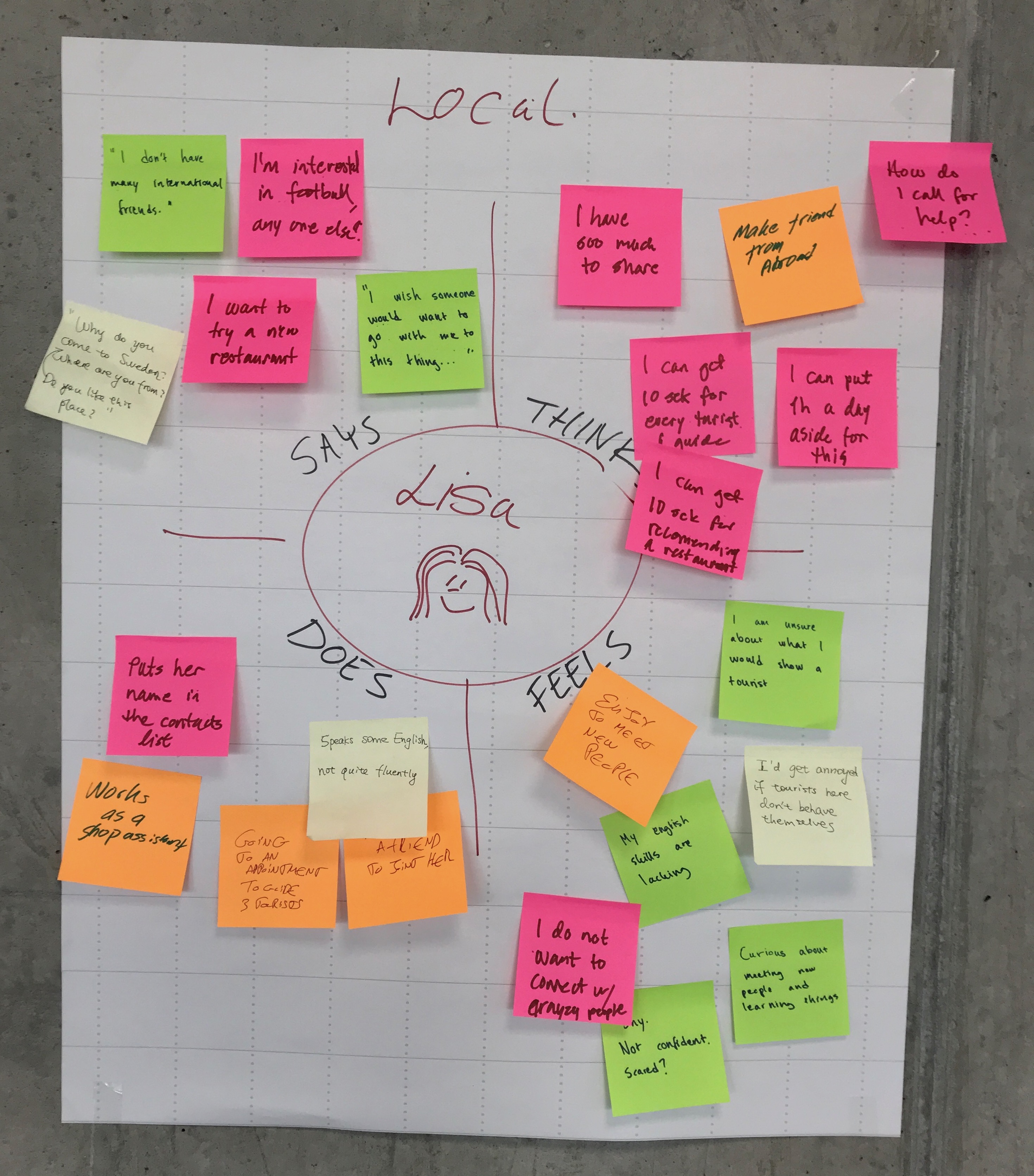 Needs Statements
We ended the workshop by calling out the needs for Texas and Lisa.
Based on the needs statement, we find the following design opportunities

Location and routing
How to best get into the Stockholm city area
Where to meet up guides, and pick up tourists
Identification, who is a guide and who is a tourist
Allocation and Scheduling
Who to go with who
Optimize groupings from pick up, route, and drop off
Trust, safety, and pay
Only pick up people with good references
Emergency calling
Pre-agreed price. Simple pre-pay methods

"Today I had a very amazing opportunity to be a part of a workshop called "IBM Design Thinking: Deliver Breakthrough User-centric Solutions": I learned so much in such a short time and met a lot of amazing people. But before that, I was hesitating to go because I didn't know anyone there and the thought of being embarrassed scared me. If I had let my fears decide for me then I wouldn't have had one of the best experiences in my UX career."

"Thank to all of you from IBM for a great workshop"

"Workshop experience and following discussions were very interesting. A lot of inspiration, thanks to the organizers"
IBM Design Thinking: Deliver Breakthrough User-Centric Solutions

Learn more about the IBM Design Thinking workshop.

Download the workshop presentation

Learn more about IBM Design and IBM Design Thinking on ibm.com/design